Overview
Introduction
Why summer holidays are the best time for family time
Our list of the 5 best summer holiday destinations in Europe for families
Final Thoughts
"Having kids is a reason to travel, never a reason to stop."
Looking for some inspiration for your much-awaited summer holiday, but unsure where to go with your kids? You're just in luck because our expert team of UK travel agents have put together a list of great options for the summer holidays, right here in Europe. And trust us, these holiday destinations will not disappoint!
Why summer holidays are the best time for family time
Summer is that time of year you get to kick back, relax and spend a little extra time with your loved ones. While it's important to make time for your family each and every day throughout the year, it is exceptionally important that you make time for them during the summer holidays.
Summer holidays are the best time to explore new places and do a broad range of activities with your family due to the excellent weather. It gives you an opportunity to break away from your usual routine and experience someplace new with your family. This invaluable time together will allow your family to become more intimate, share new experiences, strengthen family bonds and make memories that will be cherished for a lifetime.
Summer will slip away before you know it, so make use of this time to go on family adventures and memory-making travels that will be talked about for years to come. Visit new holiday destinations and allow your children to broaden their minds to the diversity of the world.
If travelling far is off-limits due to the prevailing situation, there are still countless holiday destinations to be explored right here in Europe. That is why we have put together this list of the best family holiday destinations in Europe for the most perfect summer holiday with your kids.
Now is the time to make precious family memories that you will be glad for, later in life.
Our list of the 5 best summer holiday destinations in Europe for families
Rome is one of the most ideal summer holiday 2021 destinations for families with kids. Your children will be amazed to see the fantastic historical sites and the magnificent inventions by the one and only Leonardo da Vinci.
Added to that, Rome also has some of the best cuisines you'll find around the world, which is also pleasing to children's palettes. And not to mention, gelato shops in each and every corner!
Some Activities to Do in Rome with Kids –
Take your kids to see the Colosseum and the Roman Forum.
Throw coins into the Trevi Fountain.
Have a picnic, rent bikes or row boats at the Villa Borghese Gardens.
Visit Explora, Rome's topnotch children's museum and experience a load of hands-on activities.
Take a pizza making class with the whole family.
02. Paris, France
As they say, family is where life begins and love never ends. So, what better place to have a perfect family summer holiday than in the 'City of Love'? Paris has always been a family favourite during summer with its magical carousals, outstanding museums and parks that look straight out of a Disney movie.
It would definitely be a memorable experience for your children to witness first-hand, the world-famous art and architecture that Paris is widely known for.
Some Activities to Do in Paris with Kids –
Witness the beautiful view from the summit of the Eiffel Tower.
Explore the Musée du Louvre and world-class paintings and sculptures.
Visit the Muséum national d'Histoire naturelle, France's best science museum.
Get a glimpse of the Notre Dame Cathedral.
Take a cruise on the Seine river.
Discover the dark side of Paris by visiting the Catacombs, if the kids are up for it.
03. Barcelona, Spain
Barcelona is an exceptional summer holiday destination for families and will be one of the most rewarding travel experiences for your kids. This colourful city has a richly unique culture, the perfect Mediterranean climate and lots to see and do.
So, let your kids discover the treasures and beauties of this splendid city, like, the incredible art, architecture, museums and parks.
Some Activities to Do in Barcelona with Kids –
Visit the Sagrada Famillia.
Explore the one-of-a-kind Parc Güell and discover the crazy colours, sculptures, and playful nature.
Enjoy an unforgettable day at the Tibidabo Amusement Park.
Discover the charms of Barcelona from the Montjuïc cable car.
Visit the Chocolate Museum – Museu de la Xocolata.
Explore the heavenly Parc de la Ciutadella – the greenest oasis in Barcelona.
Hop on a train and visit PortAventura World, Spain's biggest theme park.
04. Prague, Czech Republic
Prague, also known as the 'Heart of Europe' has so much to offer families during the summer holidays. With its shop-window marionettes and colourful Baroque buildings, Prague certainly feels like a scene out of a fairytale.
However, this beautiful city has much more to offer its visiting families than a few fancy buildings and a couple of wooden toys. The kids will especially be captivated by the world-class child-friendly museums, open green spaces with well-equipped playgrounds and a range of restaurants to satisfy all kinds of appetites.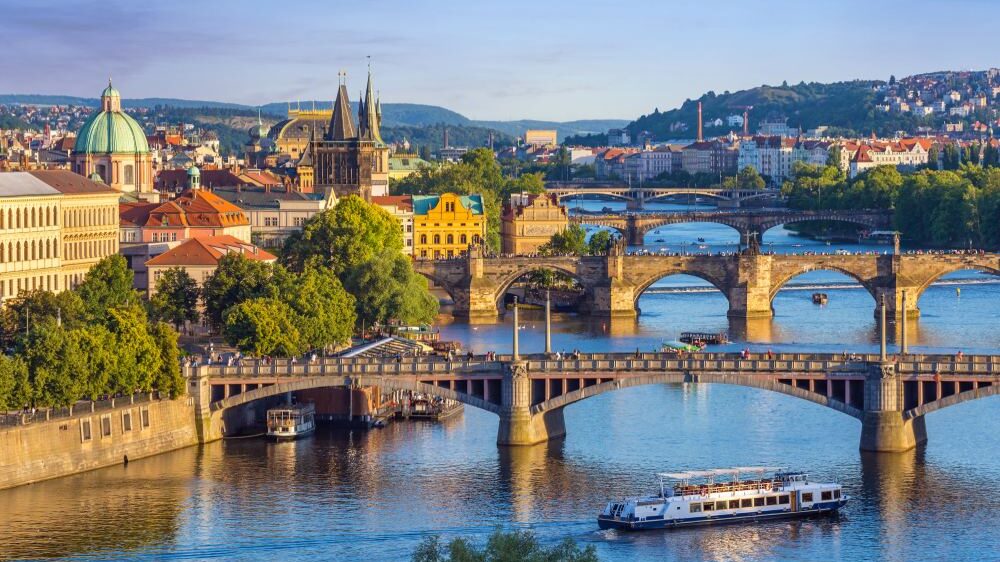 Some Activities to Do in Prague with Kids –
Visit one of Prague's most significant landmarks – Prague Castle.
Climb the Petřín Hill and take in the eye-popping view of the city.
Take a trip to the Park Zoo to have a wild and adventurous day.
Hop on the Nostalgic Tram No. 91 to discover the city in a unique way.
Take the kids to see a puppet show in the original puppet theatre – The National Marionette Theatre.
Let the kids touch, create or alter the artwork displayed at The Art Gallery for Children in Prague for a fulfilling and hands-on experience.
Let the kids have fun at the Children's Island, a great little island dedicated to kids.
05. The Greek Islands
Treat yourself to a family holiday in paradise and leave for the Greek islands this summer. Explore not one but a couple of the best islands by taking the ferry which is not only fun and easy but also a whole other experience in itself.
The Greek islands offer amazing scenery with beaches that are bound to make everyone happy. So, give your family an unforgettable summer holiday filled with sand, sun and sea in the beautiful Greek islands.
Some Activities to Do in the Greek Islands with Kids –
Take a boat tour of the caldera which was formed by a volcanic explosion.
Make a splash at Santorini Water Park.
Explore the towns of Pyrgos and Emporio.
Trek from Fria to Oia and witness great views.
Crete
Enjoy the beautiful beaches.
Visit the traditional villages and thriving cities to learn about their culture.
Take a wonderful hike with the whole family.
Explore historical sites such as the Knossos.
Naxos
Visit the kid-friendly beaches with the calm shallow waters.
Walk around the island and discover its interesting traditional villages.
Corfu
Discover the vegetation, fauna and unique flora in Greece.
Have a splashing time at Aqualand Corfu Water Park.
Mykonos
Sail the Greek seas.
Visit famous landmarks such as the Paraportiani church.
Wander the picturesque streets of Mykonos Town.
On a final note, plan a trip to one of these amazing European destinations to have a much-deserved summer holiday this year. Remember, it's not where you go that matters but who you go with. So, make this summer holiday with your family a precious time filled with endless love, joy and happiness.
Escape to one of these magical holiday destinations and explore their beauty while creating a closer bond with your family. Sometimes we all get caught up in the hustle and bustle of life that we fail to give enough time to our kids. Thus, make it up to them this summer by giving them a holiday that they will hold close to their hearts forever.
"The greatest legacy we can leave our children is happy memories"